In early 2009 I attended The New York Comic Con. If I tried to describe the experience as a comic book character, I would probably say, "Galactus on Steroids". It was a humongous corporate trade show with gigantic crowds, It was a spectacle of high-tech sensory overload. It was light years removed from the conventions I grew up with, where a bunch of guys set up folding tables and put out cardboard boxes full of of comics. Parts of it were interesting and some of it was fun but at the end of the day, I felt burnt out and dissatisfied.
Last weekend, a parent at my son's school asked if we wanted to go to the Kids' Comic Con that was being held in the Bronx. I was skeptical, but my son and I got on the subway and headed uptown to the Bronx Community College. The convention was tiny compared to the NY Comic Con, but it turned out to be an exhuberant, grass roots event where professional (not celebrity) artists mixed with aspiring artists and kids.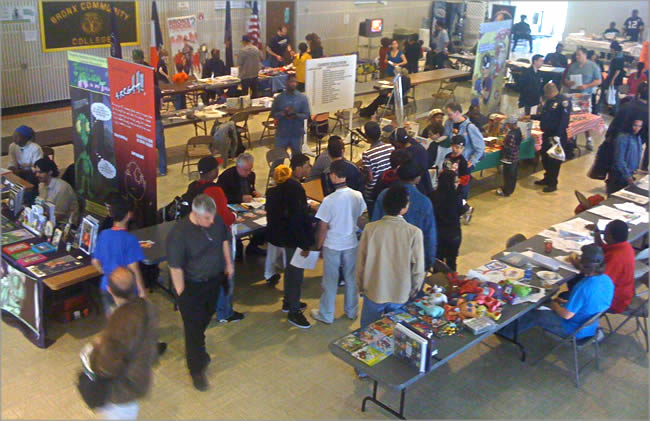 Kid's Comic Con 4 at the Bronx Community College

Bronx, NY; April 11, 2010
It seemed like there was an artist at every table, rapidly sketching on small sheets of paper or multi-panelled comic pages. Original drawings were available for 5 bucks and at one point there was a contest to see who could draw the fastest. We saw a nice presentation by Warriors manga artist James Barry and attended a coloring workshop that taught kids to use Photoshop's magic wand and bucket tool. It was a little disorganized ("… who has the microphone?") and the workshop had rough edges (the printers in the computer lab didn't work) but overall, the convention was a positive community event organized by a group of people who loved comics and wanted to do something good for kids.
When we got home, I saw Craig's Saturday post about the MOCCA Fest that was being held in an armory in Manhattan. This seemed like an opportunity to see yet another type of comic convention.
The 69th Regiment Armory is a great place to see a show like this. Its high, vaulted ceiling, cavernous space and grand, turn-of-the-20th-century architecture gave a rich historical backdrop to some of today's finest contemporary comic art. Scores of independent and small press exhibitors showed hundreds of works ranging from beautifully produced hard-bound volumes to self-published, fresh-from-the-inkjet-printer editions. Superheroes were almost nonexistent, even at table of the Jack Kirby Museum and Research Center.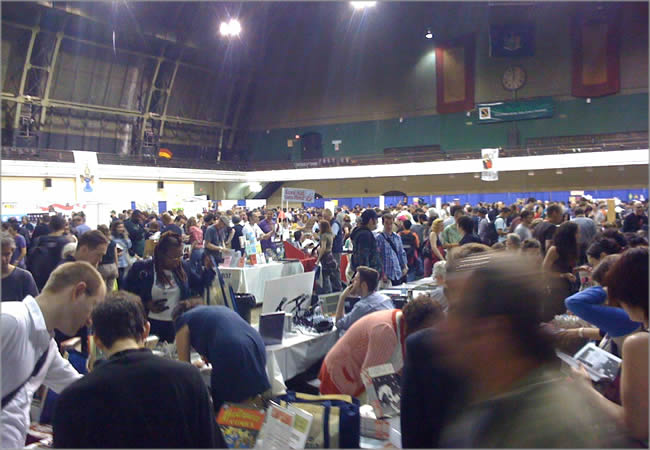 MOCCA Fest at the 69th Regiment Armory
New York, NY, April 12, 2010
I saw two panels on comics making the transition from print to electronic form. The first featured a presentation by Neal Adams and Rafael Medoff on their new project for Disney Educational Productions: They Spoke Out: American Voices of Protest Against the Holocaust, a 10-episode series of motion comics designed for high school students. They showed an excerpt that was a powerful mix of relatively unknown historical events illustrated by Adams and combined with old film footage. At the end of the presentation an audience member asked if the work would appear as a graphic novel. Adams said that Medoff was a strong advocate of translating the work to print, but Adams himself was noncommittal.
The second panel, New Genres, New Readers, New Technologies: The World of Comics to Come, featured an interesting combination of some of the top independent comic art publishers: David Steinberger, President of Comixology; Leigh Walton, Top Shelf Productions; Liz Baillie, cartoonist and illustrator; Charles Kochman, Executive Editor of Abrams Books' ComicArts imprint and Craig Yoe, cartoonist, publisher, designer and founder of this blog.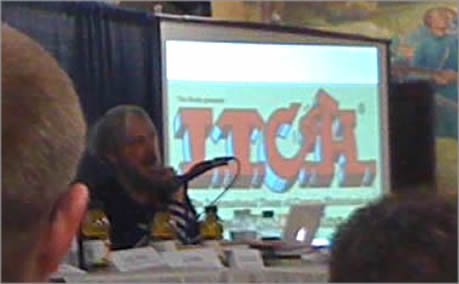 New Genres, New Readers, New Technologies:
The World of Comics to Come

A poorly photographed Craig Yoe at the MOCCA Fest Panel discussion
Steinberger opened the discussion talking about the apps that Comixology developed for the iPhone and the iPad. He drew a distinction between people who purchase comics for reading and people who purchase comics for collecting. He sees the former as the market for electronic comics and the latter as the market for printed comics.
Kochman said he liked the concept of creating books as fetish objects and talked about the challenges of working within a company like Abrams, long known for its high quality art books but unfamiliar with the work of artists like Jack Kirby.
Yoe described the importance of rediscovering the work of artists like Milt Gross and publishing lesser-known works by famous artists like Joe Shuster, George Herriman and Steve Ditko. During the Q and A an audience member commented that he preferred digital comics on the Internet to traditional comics. Yoe disagreed and said, while he liked digital comics, he preferred "the tactile pleasure of reading comics printed on dead trees". To make his point Yoe then asked the audience to raise their hands and show how many people preferred Internet porn to "actually making love." The discussion moved in another direction before the vote could be taken.
Like the New York Comic Con, the MOCCA Fest has virtually nothing in common with the comic conventions of the past. It's a different type of event – more like a large art or book expo with a sense of humor. Viewing the work, attending the panels, and talking with the artists and publishers was a great way to spend the day.
David Donihue, GreatCaricatures.com
—
David Donihue, GreatCaricatures.com